What is nefroVR?
NefroVR – a VR-based device that increases efficiency of hemodialysis
The process of hemodialysis is slow, repetitive and uncomfortable. Patients often perceive it as time taken from their lives with a sense of ineluctability and emptiness, engendering a negative emotional and cognitive perception of the world and one's place in it. There's a need to make patients to feel better during the medical process (reducing of stress, pain and discomfort), as well to make the process more effective due to patients physical activity in small and safety scale. 
Using the VR technologies will improve well-being of the patients and increase the quality of uncomfortable medical process. Creation of a true multisensory experience will absorb the patient's perceptions during hemodialysis. Thanks to that VR solutions will appear as an effective tool to minimize pain and stress due to venipuncture or other medical interventions. What is more, a our designed VR app and gear will make the whole process of hemodialysis more effective, thanks to immersing the patient in a virtual environment and encouraging him to perform simple physical activity.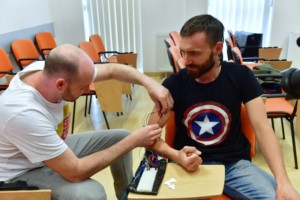 We're here to support you
User-friendly NefroVR hemodialysis machine is being developing and testing to give more patients the opportunity to experience the health benefits of hemodialysis, also to increase their comfort. This VR innovation includes a simple-to-use manager (app) that is used to set up patient profiles and sessions, customize different activities to match each patient's specific requirements, track patient results and review in-depth visual analytics. Medical staff uses the Manager to remotely monitor their patients' performance. The therapy sessions' results are automatically saved – either online or locally – providing detailed analysis and reports. This unique VR technology requires less personal resources and simultaneously provides a more comfortable medical procedure than traditional methods.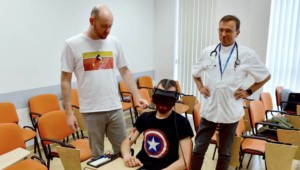 source:
For medical staff:
Expand

capability

Improved adherence
(ie. precise medical activity measurements, easier cooperation with patients)
For patients:
Easy to use

Fun to play

Available for hospitals and home use

Reduced pain during puncturing
The PANOPTICUM company conducts a project called "Research and development works related to the development of devices supporting hemodialysis – nephroVR". The aim of the project is to strengthen research, development and technological innovation through increased employment in research.
The result of the project will be developed and tested NefroVR prototype. The value of the Project is PLN 1,702,389.90, of which PLN 1,220,487.70
is co-financed under the Regional Operational Program for the West Pomeranian Voivodeship 2014–2020, due to the European Union funds under the European Regional Development Fund.
Let's Work Together
FIND OUT MORE
     Technology is in our core

Digital Marketing made by Engineers

Custom in-house technology

Years of experience
Expertise & Know-how

     We have an exceptional team

Highly-skilled

Result-oriented & Analytical

International & Diverse